Once upon a time, (1982 in fact)  a movie called Blade Runner was released. It became a classic of American cinema, and helped to create the era of cyber-punk. However, aside from a few lousy ERTL dinky toys, a re-release of the novel, a photo book and a lighter, few products based on this property have been made. I had spent good bus money to sneak into this movie (I was only 12) and dang it – I wanted my Police Spinner! Why were the tie-ins for this movie so sparse? Thank director Ridley Scott and the marketing team behind the movie.

Enter the Japanese. They are a quiet, polite folk who live on an island far away. They are artisans who are renowned for subtly and creatively getting things done for the little guy.

Since the Japanese became involved in the production of "Blade Runner" merchandise in the 90s, we have been recipients of some wild and classy 1:6 scale "Android Hunter" figures and a resin garage kit of the Syd Mead- designed Police Spinner.

None of these items could be purchased for less than one hundred dollars U.S., and they were ALL knock-offs. Illegal. Bootlegs. They were changed, subtly, from the original in order to avoid globetrotting lawyers from Ridley Scott's hoarding empire.
However, Medicom Toys, run by savvy, subtle and polite Japanese people have found a way to bring us a LEGAL version of the Police Spinner. Well, kinda. Actually, they are releasing a Spinner that has nothing to do with Blade Runner. Almost.
Confused?
Medicom Toys are releasing a very nice, 27 CM long "Miracle Action Vehicle" of the "Future Car" from Back To The Future. You know, the blurry thing in scene 26 that zooms by the camera when that zany Doc Brown and that weasely McFly kid time-travel to the future! Weren't you paying attention? Anyway, this "Future Car" looks astonishingly similar to Syd Mead's Spinner from Blade Runner. Is your brain broken yet?

For those of you who don't know Police Spinner lore, the cash-strapped set decorators for Back To The Future 2 needed some futuristic cars for the town-square scene, and literally stumbled upon a neat-looking vehicle-prop dumped in the studio's back lot. It was overgrown with weeds and damaged by the elements, but it had potential. It turned out that the vehicle-prop was the Police Spinner made for the 1982 Blade Runner film, and tossed away. The Back To The Future production crew bought the prop for a really good (pre-Ebay) deal, re-dressed it, and stuck it in their movie. 

A few years later, the folks at Medicom Toys no doubt freeze-framed their DVD of Back To The Future 2 during the above scene and began drooling. They could make a Police Spinner, and not have to worry about the wrath of Ridley!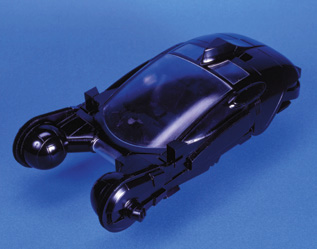 The car is missing the blinking police lights, police-blue colours and the markings, but a few modifications could make this a very inexpensive alternative to the $200.00 US price of the resin model kit. And it's legal! You don't have to feel guilty about supporting idea-theft any more!

The 27 cm Back To The Future 2 "Miracle Action Vehicle – Future Car" has folding, rolling front wheels for ground and air modes, opening gull-wing doors and is due out this September for a very reasonable 7,800 Yen.
—RainBot
Comments Off

on The Medicom Spin Doctors