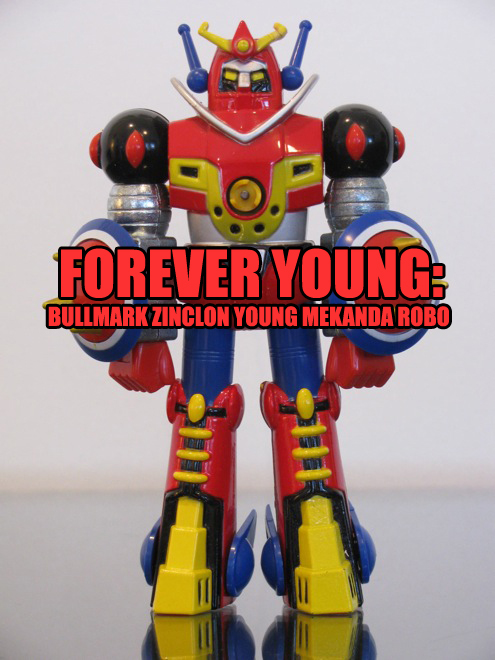 Mechander Robot (合身戦隊メカンダーロボ Gasshin Sentai Mekandaa Robo) aired in 1977. I was only two years old.
I seem to vaguely remember one of my older cousins throwing a Daipolon Legger at me somewhere around 1979, and by 1981, I had inherited all of their Shogun Warrior and Bullmark cast offs (Thanks Marukai!). By this time they were utterly destroyed and bashed to hell, and I guess in some way I grew to really resent them. Thanks to years of very expensive therapy and Yahoo Japan auctions, I can safely say I'm over it.
There is no way I would have ever imagined that thirty years later I would be scouring the world to get my hands on the same clunky toys I detested as a child.
Come 1981 I would see stacks of Bullmark Zinclon boxes on clearance at Mikado here in San Francisco's Japan Town and scoff. I won't even mention the bargain bins at TG&Y.. Anyway, Mikado had WAY better stuff by then in my six year old mind. There was Tryder G7, the guy with the big burning bird on his back. There were SUPER cool Microman box sets whose robots combined to form a big robot then transformed into a space ship. There was Gundam combination sets that looked like suitcases!! They even had a ruger pistol that "transformed" into a rifle and then into a robot. Needless to say, the clunky metal Diapolons and Mekanda Robos of yesteryear were not looking to good compared to these shiny, flashy new playthings.
Once again, who knew that a lifetime later I would pay the equivalent of a mortgage payment for a holy grail like the Technical Gashin Mekanda Robo when at one time in my life I looked at it with such distain when in the presence of, well, transformers. This keeps me awake at night.. Well, not really.
Fast forward to 2001. Alt and Duban publish the Raging Bullmark Datafile. Bullmark was on my radar, but after an evening of perusing all the memories rushed back in. I zeroed in on Mekanda. Young Mekanda. It was my first Bullmark purchase and was the gateway drug I needed to get hardcore about Zinclon. It was my first and still is my favorite of all the Bullmark diecasts.
The piece itself is amazingly colorful. Maybe that's why I dig it so much, it's LOUD. It's also very slick and is somewhat devoid of what Alt calls the "working-class charm" that most of the Zinclon pieces have. I'm a huge fan of the polished, pristine look of the Popy Chogokin, so it figures Young Mekanda floats my boat.
The box, on the other hand, has the typical Bullmark charm and actually reminds me quite a bit of the Mekanda spinner vinyl box. Once again, very loud (love the nuts Mekanda logo) and busy. The box art is a huge part of the allure for me, and the window boxes kick it up a notch allowing one to enjoy the toy and the art at the same time.

As far as gimmicks, there are diecast metal levers on the sides of Young's arms that are dangerously spring loaded. When retracted and released they
spin the spiked shields
around like a record baby. It comes along with the quintessential Bullmark spinners. Simply wind the dial on his back, load his chest and fire away. Flying spinners yeah! OK, focus.
As far as size, you can see by the comparison below, it measures up nicely with the TG Mekanda.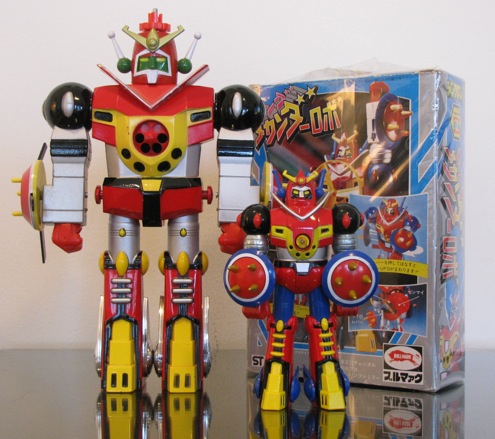 So as much as "I" think this toy rules, it's not without it's flaws. Leave it to Minister Alt and I to come up with a couple:
First and foremost, the legs do not bend!! You can see from the pics that they look jointed. Well trust me, they are not so don't try to bend em because you will break them.
Second, the shields will easily separate from the forearms. You'll think to yourself "cool! I'll just throw them back in, no harm no foul". Not so fast. They actually separated from the little gear within. So, what you have to do is carefully undo the screw on the forearm (it separates very easily). Then, you will see a tiny plastic white gear floating around inside. Simply put the shield shaft into the gear and it will fit snug. Screw the arm back together with the shield attached and your good to go.
In closing, I love me some Young Mekanda. Regardless of its minimal flaws, I could not recommend it enough. BID IT NOW!!
As an added bonus I've added a this block of Bullmark Mekanda commercials that will be part of the upcoming TBDX video channel "Gangu Cinema". It features the Mid sized and Technical Gashin Mekandas but alas Young was absent that day. Kampai!!
-Sjoen
Comments Off

on Forever Young: Bullmark Zinclon Young Mekanda Robo