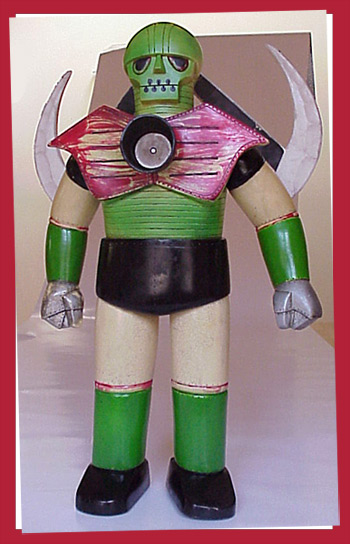 RARE JAPANESE TOY GOES TO AMERICAN COLLECTOR
May 30, 2006 — When Keiko Nakamoto of the Ishikawa prefecture came across an old vinyl robot covered in a thick layer of dust, she had no idea that she had unearthed only the third known specimen of an item described by Tokyo toy dealers as "the most sought-after item in Japan." Mrs. Nakamoto, who deals regularly in various antiques but not toys, put the item up for auction on Yahoo, Japan and gave it a starting bid of 15,000 Yen. Not knowing what the toy was or the character it represented, she titled the auction by reading the words embossed on the feet, which were simply the license holder and manufacturer. In fact, the item was semi-mythical Garada K7 Jumbo Machinder, an enemy robot of Mazinger Z, and a piece considered by many to be a crown jewel in the world of Japanese character toy collecting.
With the words "Garada" and "Jumbo Machinder" omitted from the listing, the event was missed by many auction-watching collectors who bookmark searches containing those words. Despite the mislabeling, the auction still received a massive 70 bids, the highest being just over 1.7 million yen. The toy was won by Tom Franck of Los Angeles and the close of the auction marked the end of his thirteen-year hunt for the item, which included seven trips to Japan.
"There are toys out there with fewer known specimens," said Mr. Franck. "But I can assure you no toy has had as many rocks lifted in search of it."
American Gen X-ers may be familiar with Jumbo Machinders through their American incarnation by Mattel in the 1970s: The Shogun Warriors. But what is less known stateside is that the Shoguns constituted only a small subset of the original line released by Japanese toy manufacturer Popy.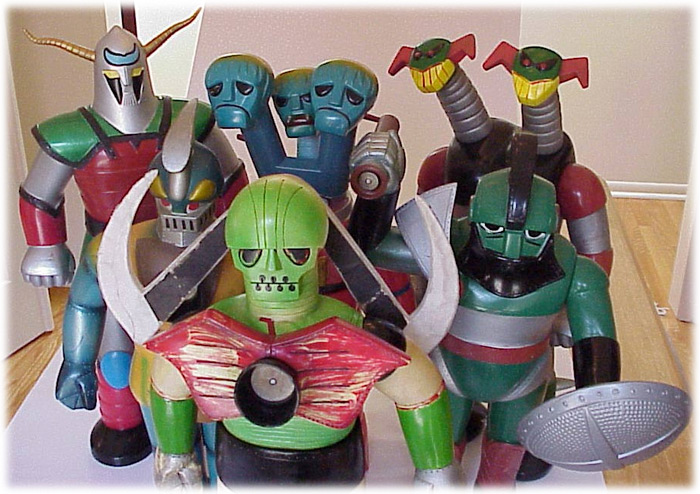 The Jumbo Machinders were two-foot tall representations of heroic characters from animated and live-action TV shows. They were made out of polyethylene terephthalate - the same material used to make things like shampoo bottles. However, in 1973 — the toy line's first year — Popy produced ten villain Machinders, which were slightly smaller and made out of vinyl.
Because Jumbo Machinders were so large and space is so precious in Japan, many were thrown out and are therefore very difficult to collect today. Four figures for a complete specimen with its box is standard. Prized highest amongst Machinder collectors are the villains, which are viewed almost as status symbols. While all are challenging to find, Garada K7 is stratospherically more coveted and rare than the other nine.
"Both from a design standpoint of and because of its incredible rarity, the Garada represents the pinnacle of '70s Japanese character toys to many collectors," said Matt Alt,, Japanese toy scholar and co-author of the book Super #1 Robot."It's hard to imagine, but just a few short years ago, nobody was even sure if a Garada K7 had ever been produced."
Up until 1999, many Japanese toy experts thought that catalog pictures of the villainous Garada K7 Jumbo Machinder were of an unproduced prototype. Then, pictures of a bone-fide specimen appeared in an issue of "Gangu Jinsei", (Toy Life) shocking the Japanese toy collecting community.
A second specimen was found in 2003, when a three-man team went through a factory warehouse in Tochigi, looking for items to display in the newly-opened Bandai Museum. Despite rescuing the toy from imminent disposal, its new caretakers had no idea of its significance and hung it precariously from a balcony in the museum with baling wire. Only after being informed of its legend was it placed behind glass. Today, Jumbo Machinder collectors from across the globe travel to see it and take their picture next to its case.
Often, a prized toy's scarcity is due to it coming at the end of the line's run or because the character was too obscure to make in large numbers. Not so with Garada K7. The toy was produced right at the beginning of the Jumbo Machinder series, and, as far as villainous robots go, is about as popular as you're going to get. Mazinger Z was a gigantic, worldwide success Garada K7 gets destroyed by Mazinger's "koshiryoku beam" in the opening credits of every episode.
So why was the toy produced in such low numbers? Many believe it was because it was deemed too frightening in appearance. "Garada K7 is a robot with a skull head and sickle horns," said Mr. Franck. "You have to remember that in the 1970s toys were aimed squarely at children. Popy was completely justified in thinking that, peering down from a shelf, after the lights are turned off, a Garada K7 Jumbo might induce many a nightmare. And today, I think that the idea of a toy that's rare because it was 'too scary' excites a lot of people."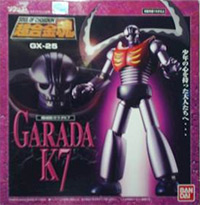 Although the original toy was given an incredibly limited release, the character's popularity endures. Currently, modern-day toys of Garada K7 can be found in the form of a detailed die-cast "Soul of Chogokin" toy, a steampunk action figure and even a 32-inch "Jumbo Vinyl" figure.
In 1998, Bandai offshoot company Uni Five made a "replica" of the Garada K7 Jumbo Machinder. However, this was before photos of any real specimens could be found and was exceptionally inaccurate in size, morphology and even color. Because it was so different, Uni Five's replica had zero impact on the collectability of the original.
"Unlike a lot of replica or reproduction toys, there's simply no mistaking the Uni Five Garada for the true Popy version," said Mr. Franck. "Even with collectors able to get a 'Jumbo Garada,' everyone still wanted the real thing."
Now that it's known that the "real thing" is indeed out there, the question remains if more specimens will be unearthed. "I think so," said Mr. Franck. "But I wouldn't expect many more. In 1997, there were only five or six known examples of the famed Masudaya Machine Man tin robot. Now, I've heard that the number is close to twenty. However, Japanese tin robots were mainly for export while Jumbo Machinders were made for domestic consumption. The chance of a rare toy popping up in a basement or closet in America is far greater than in Japan if for no other reason than we have a lot more closets and basements. Whatever kind of release Garada K7 got, it only happened in Japan, so Machinder-collecting hopefuls are at a big disadvantage."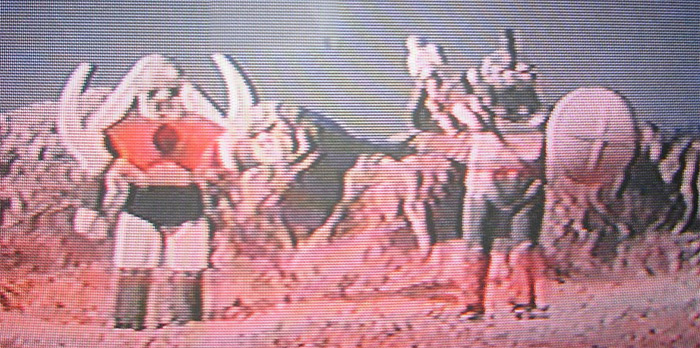 It is certain that at least a fourth specimen was produced. It was in the background of a fifteen-second commercial where it was literally blown up. "I've got it on tape and have had collectors ask to see it," said Mr. Franck "I tell them that they don't want to. It's too depressing. It's essentially a Garada snuff film."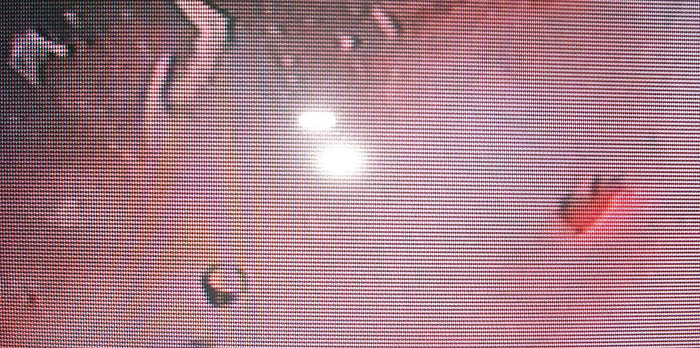 Is all this just too much hype and, more to the point, money, for a toy? Possibly, but consider this. The (mislabeled) 1.7 million yen auction came to roughly $15,000 U.S. Last summer, the first specimen went up for auction and its new owner shelled out 2.75 million yen to acquire it.
"It is a lot of money," said Mr. Franck "And that's why he's going into a safe deposit box. He's caused me enough worry without having to stress about earthquakes, fires or theft."
As for Ms. Nakamoto, who monitored her auction in disbelief, she is quite satisfied with the result. "I'm happy to sell the toy to someone who really wants it," she said via email. She has most certainly succeeded.
"I can't believe I finally have Garada," said Mr. Franck. "This auction popped up out of nowhere and it was an incredibly complicated transaction to make. I'm on the business end of some powerful toy karma. A lot of people on both sides of the Pacific helped me in making this happen and I'm indebted to them all. Most of all, I have to thank my wife for her boundless understanding in the matter. I believe it's accurate to call items such as Garada 'Holy Grails' but you could just as easily call them 'divorce makers.'"