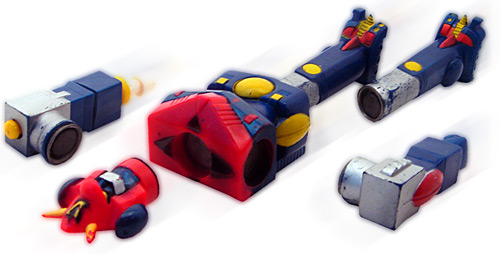 So, Ray says "more vinyl…"
It's about 80 yards from I Ping alley to the Ding Hao basement arcade, and a long way to walk when you're only 8. In the 70's, you could pass through a chamfered entry on the south side of Zhong Xiao East Road, through double doors and down a wide stairway into the underground.
In the warren below, quintissential asia: a maze of slapped together stalls hocking tawdry handbags, clothing, slippers, books, crap, and yes — even Chogokin. Vivid vivid memories of passing that "ugly robot with the lion on its chest", "that blue one with the smaller robots inside it", and many others. In those days, pre-programmed by the the KMT state channels for a straight party line, I wanted only Mazinger and Gatachaman. Everything else was fake, deviant and failed.
It was a hot summer. No, a HOT summer: well over a hundred, sweltering, and humid as you can only get in South East Asia. We took turns sitting in the shower to stay conscious. Clothing plastered the body, saturated and heavy with the outpouring of continuous perspiration.
A Koji Kabuto story: the suffering of any child can be alleviated by a large enough robot.
To boost morale, and to distract me from the smell of my own thighs roasting, my auntie shells out a few tai bi for a robot to tamp down the ADD. It's plasticky (vinyl?), blue and red robot, and totally unfamiliar to me. Braniacs like YOU know this is Combattra, but to me at the time with my tube socks and short shorts, it was the Smirking Robot with the Yellow Horns. And while you pointdexters will likely pontificate on the beauty and structural dominance of the Takara magunemo line, this was MY FIRST ever magnetic toy. It was/is utterly funky, and I have been smitten by magnets ever since. Check it out.
Note the scale and feature resemblence to other Bandai vinyls like this Danguard. Though small in stature and crudely sculpted, doesn't the presence of ordinance technically makes this a "missile firing" line?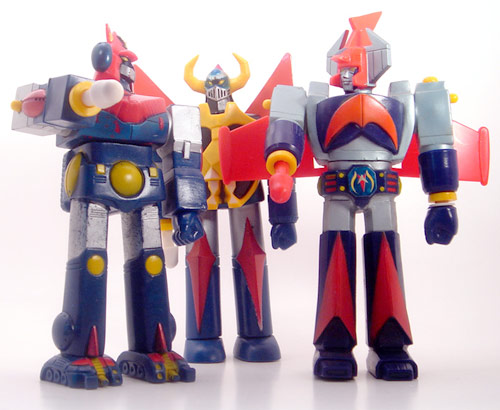 Now check out the fantastic painting of Gaiking on this box. I weep whenever I look at it.
Despite my nightly trawlings on the web, multiple trips to Japan, and repeated attempts to extract info from the Duban / Alt dualcore processor, I've only found two of the robots in this line. I would surely like to know more.
If you've got some of these yourself, or know more about them, please do share…
Comments Off

on Bandai Vinyl Attraction…