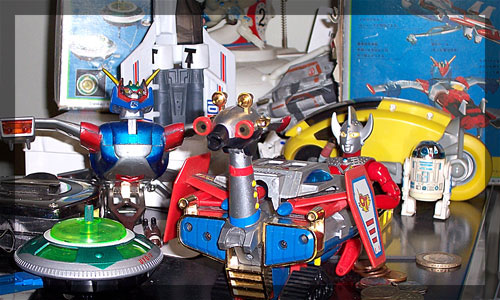 It's Sunday. So you start thinking about work. At the office, coworkers frequently enter my lair to yammer on about web design, engineering, operations and production. I intensely pretend to listen, all the while utterly dismayed at their complete lack of appreciation for vintage japanese toys.
I have sprinkled zinc liberally across all surfaces, hoping a seed of interest will sprout in the heart of some eager young code slinger. But it's a hopeless endeavor.
Despite the presence of even more accessible American artifacts like my sparkling mint '78 Colonial Viper and Syd Mead TRON Lightcycle, I'm greeted with polite apathy. Nary a comment. Amused tolerance.
| | |
| --- | --- |
| | Brave Raydeen, Godbird of Networking. I slipped my first event badge on him in 1999 and cannot seem to stop. It's pathetic how predictable this collecting thing is. |
| | If you've ever wondered how much I hate the Uni-Five Garada K-7, now you know. |
| | The presence of "toys" further emboldens disloyal employees to mock my "authority" in effigy. |
| | You can date my skills by the power of the "desktop" unit by the Jumbo Getta Robo Go. |
Amidst the litter of metal and plastic however, a single object exerts a seemingly subconscious power on even the disinterested. Men and women of all ilk cannot stop themselves from fingering it. They pick it up while blabbering on and on and spin its dial, rearranging it on my file cabinet without thought or awareness to their actions. Winner of my silent focus group poll, it is the only "successful" toy in the room…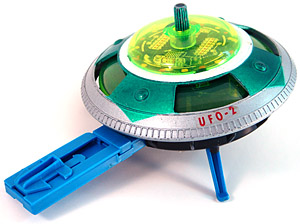 Of course it's the Nakajima UFO 2 Dome-type Saucer, and this humble piece which I have casually discarded here because of a broken landing leg gets more grabs than a [insert tasteless choirboy/church reference here]. You get the idea. For some reason, one of the cheapest and most easily acquired pieces draws the crowd. I love that.
If I put my art school hat on (which is black…follows function…really pushes it) I'd guess there's something about its isomorphic correspondence to symbols of regeneration and motherhood: something comforting about the circular fondleability of it, coupled with general shinyness. Whatever.
It really doesn't matter why. I'm just psyched because every time it's handled, it's a karmic shout out to those funky Nakajima guys of yesteryear. I hope they know their work still lives on…
Comments Off

on Office Politics: Nakajima Triumph