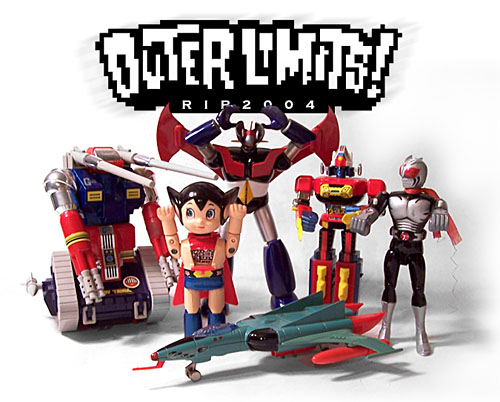 Holy shit, it's true: Outer Limits shuts its doors. It's shades of '99 and the closing of Day Old — not a GOOD memory, no not at all.
The mullahs called it at the millennial: the Fuckinginternet continues its relentless destruction of the real world. Browser-buying sucks compared to walking into a funky, dazzling display of boxes and hanging crap. What a bummer…
Things scored from O.L. that matter: Clover Guntank, My First SOC, Jetter Marus, Kamen Rider of the Many Fists, Daimos and sweeeeeeet Yamato Cosmo Tiger. Steve G. was personally involved in all of these moments, at times helping to scheme with my parents to insure awesome Christmasessses.
The passing of such a place demands a response. Mine is simple: look for the nearest analog place to bring some boys home. For this NJ holiday weekend, unfortunately, that leaves only

Mitsuwa. Formerly Yaohan. Land of the Rising Sum. The retail section of the shopping complex keeps shrinking while prices steadily soar. In true Jersey fashion, the toy stock is toxic and untouched.
There's that one chrome SOC Getta set, yours for only $360. A stupid stack of Turn-A Gundam thingies, only $100 each. And a ratty UNI-FIVE Astroboy for only $160. Was I just rambling something negative about Internet shopping? This sucks. I waver…
Hmm. An odd impulse: there's that tall stack of reissue HCMs, been there since 1942. It's been a LONG time since I gave anything in this line a look. And they're less than $30 apiece. Hmm. An odd call, but since these were on that checklist of things I'd buy at Outer Limits when I got around to it…Sold! (I attract enough attention that I get my own shopping helper who helps to gather my purchases. See? Real world shopping. That's what I'm talking about!)
Once home, I try them in different home-furnishing locales — residual programming from Bandai Marketing clouding my brain. Not sure about this concept. Finally, later that evening, I manage a shot that gives me inexplicable pleasure:

Mom's cooking at the family table, paired perfectly with a flight of Zakus. "Take the tofu! Take the tofu! Hard Cover!"
Hahahahahaha. OK. I'm having a good time. Where ever the O.L. guys are, I really wish them best of luck.
Steve and Mike — you rock.
Comments Off

on Outer Limits