I'm awake.
now that I'm awake, where the hell am I? what the fuck is going on? where did the last two years ago? when did I become so fucking structured? am I going to get over what I felt on / for 2001?
will I ever really let my guard down again?
* * *
it's the job of a good friend to reach down, pick your ass off the floor, pry open your mouth and shove the medicine in.
i have to face my web-based impotence: an inner sense of inadequacy when faced with style-sheets, PHP, Masterpiece Convoy.
viagara comes to me one day in a styrofoam box with a Japanese address on it. my friend has sent something to pick me up…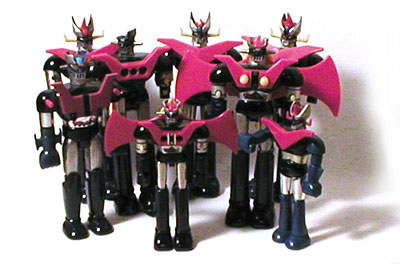 this THE chogokin — this is the shit. it's the joy of the concrete, the attainable, the useable. this is the shit. i can throw this against the wall. i can worship it as play. i understand intuitively what it means…
wait…what does it all mean again?
was it just about getting, you know, more…? or wasn't that the point? confused.
trying to, have to find my way back…
Comments Off

on Finally. THE Chogokin