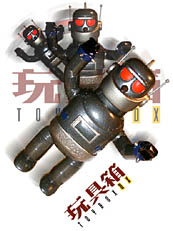 I join the Empire: half my brain is machine. I calculate Human Resource Utilization, Projected Sales, and Profit & Loss. In my quest for GAAP my weapon is Excel. But wait — there is no "I" in Team. "We" Are like Emperor Lucas, greedy, purple, lame…we drift incoherently, spinning in a Giant Ball of Space…

Take all your boys and drop them in a sack (gently, son.) Layer your little ones chronologically by genus and phylum. Let the striations settle till you have enshrined an entire history of gokin.
Now bury the sack in a box for 6 months and wait. When you open it, you're motherf*cking Darwin!
Piece by piece, bring history back to life. You are the hand of Lawrence Olivier rearranging the universe, and god help Tark, he's Harry Hamlin. Rack the universe by height. Now by age. Now by…the color red. Pilders on one side, space dragons on the other. This is the ultimate Tetris. There are no better drugs…


You're so personally insignificant when you've been riding a wave of human tribal emotion. Let's say I not only accept but in fact ENJOY that the site has passed on to younger hands. That said, do the Young Guns really need to be this good? Under what rainbow did Tim Brisko learn his Magic Tricks? And why does Alt continue to ripen like a fine caucasian wine?

Things that haven't changed while I've slept:



Terrible punning in Rumble titles.
Popyphelia — (constant low-brow reference to sex with toys.)
Our own DX street-definition for Crack.
How good was that Macross Licensing article? Holy smokes! Journalism…!

Everything I missed in the last year — Gatlin Ramble Hashin!


Yamato VF1-A: like it like it, yes. Transforming…too hard! STOP!!! Abort, put
on shelf, don't touch…
GodPhoenix: you are no surprise. I dream-ed about you EVERY NIGHT when I was little. You are exactly how I remember you, old friend. You are EXACTLY what I would have done…
Getta Robo: expensive, yes, scary to open this…but "look so cool!"
Well, there certainly is a lot more Gundam.
Mazinger Girls!!! Box arrives at the office…how to explain my excitement about breast missiles? Co-workers "made to feel uncomfortable" by CEO!
Surprising American victory: Bender??? Bender!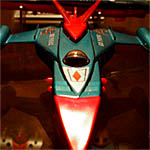 I used to tirade about metal. All they were making was plastic, and I thought I was in it for the metal. Now they won't stop popping the metal. Ridiculous, expensive, elegant chunks of metal. I realize I'm not in it for the metal.
I'm in it for the funk. And that's not something that can be test-marketed or engineered.

I have a combination of symptoms: tendonitis, carpal tunel, arthritis. It takes me a year to Ramble, and I don't check email anymore. I rarely care about what "people think," BUT, I've worried that "people think:"



I don't play with toys anymore.
I won't converse with humans anymore (see J.D. Salinger.)
I've outgrown the site.
None of the above is true. I just can't type without pain.
It starts three years ago when I rejoined "Corporation." For the two years prior when ToyboxDX was born, I was sittin' around in my boxers consulting. Watched Oprah, billed hourly, bought toys, cleaned all of Alt's sh*tty Microsoft Word punctuation by hand. Thank you Ebay: I know everyone at the Porter Square Post Office by name.

Suddenly I'm on the box ALL THE TIME. Intensity. Constancy. Add hobbies (guitar, drawing, punching things) and you end up with: balled fists, constant wincing, a general sense of having clipped my own wings. I write with gigantic looping circles using very comfortable felt tip pens.
I hate it.
I'm also not really back, but I'm trying. Bear with me. I hate being impotent. It's humiliating.
This is a victory for childhood. I know it's not the sexiest piece of gokin, but I insist that this is a miracle. Who told you when you were growing up that you could draw your own heroes? Make your own toys?
This is so important: not just the casting, but the full cycle of conceptualization to fulfillment. Evil business skills used for good. The really exciting news is who will be distributing these. I will let the guy who cut the deal tell you where to get them…

Feels good to FTP. More coming, including updates to stupid Olde Sections. Meanwhile, hope all are well. Summer is coming: Toy Shows and summits; road trips, E3…We'll see.
Best,


Comments Off

on New Ramble? Whaaaa?