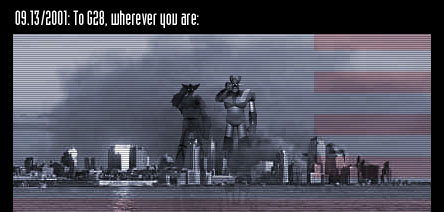 hat feels like the wrong moment for ramble is maybe right.


Today, I understood something about what we do. Insights on the giant robot should be done with. I am suprised that one resonating discovery remains.


At the core of every Tetsujin and Mazinger is a beacon of hope that a child looks to for the future. From out of the rubble of massive destruction and human loss, a new tower rises forth that will not be destroyed.


Upon this machine the child pins his hopes. The people around us all too precious and fragile. A hole in the earth and a hole in the sky, and if we are to fill it, we do so with a giant carved forth from our suffering.


The robots are a symbol of strength; this I always knew. That they were born forth from tragedy was a comic book joke I had long forgotten.


Today I understand something more about what we do. May the faith we have in the symbols of good help us to mourn, rebuild, dream and survive.


Michael, wherever you are, our prayers are with you,