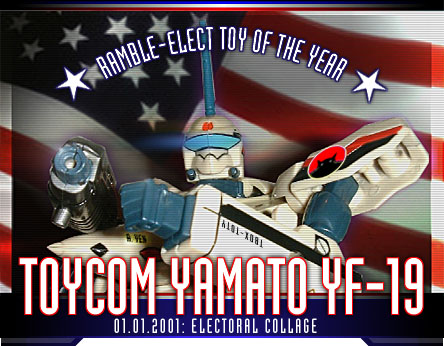 BOSTON, MA – Groggy from last-night's mystery punch, Ramble-Elect Toy-of-the-Year Yamato YF-19 Edition II stumbled out of political darkness into dawn, hoisting a triumphant gunpod at supporters and protesters alike and firing off a winter-morning message of hope and reconciliation.
Highlighting the differences between its current manifestation and the fear-inspiring brittleness of its predecessor, the YF-19 Edition I, Edition II transformed flawlessly between Battroid and Fighter with almost no use of instructions. The combination of drop-dead character execution, ruthless engineering, and dedicated design betray the real treasure: a parent company capable of aiming high to secure licenses and partnerships, but also willing to evolve the legacy of its own work in direct response to the critical evaluation of its fans.
The launch of this toy cements Yamato's ability to give us everything from a decades-old Nomura diecast to a crown-prince of modern mecha. Obvious in their work: a fan's love of artist and animation, and a refreshing dedication to the spirit behind the toys.
The Etarnal Ramble is pleased to honor Yamato for what will hopefully be a footnote in a long line of successful endeavors.

---
Meanwhile, "One thousand welcoming you" to the bleary hours of the new millenium! Thanks for your readership and writership throughout Y2k. And may all of your hopes and dreams come true in the New Year.
Best regards,


Comments Off

on Toycom Yamato YF-19: Toy of the Year