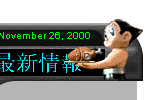 Thanksgiving in the colonies, and we have much to be thankful for.
By the grace of our two-headed Doublas — a.k.a. Yappy and Darren — ToyboxDX Rumble has rocket-punched the news to a terrifying height. (Saddam himself checks daily for the latest from Palm Beach.) So whilst you're chewing your leftovers and fondling that fistful of Kubricks, spare a thought to honor them and their bleeding fingers!

---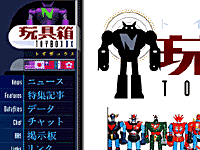 Remember Thanksgiving of
1997
? There was no "collecting community" to speak of. If you had the fetish, you were hiding in your attic like
Warren
and I. In Y2K, together we've all built this site into a community and a resource that's become transcendent.
In keeping with big dreams, tactical localization droid "Matt Alt San" has been busy machining the first bolts to
ToyboxDX JP. We're taking the first chisel at fashioning ToyboxDX into a universal Rosetta Stone of communication and collecting. The ultimate goal: to create a worldwide bridge back to the homeland. So start downloading those font packs and keep fingers crossed.
(I uploaded a spanking new UI last weekend which will foreshadow some changes on the regular site. Matt's busy creating all new original content. So check it out and let us know what you think.)

---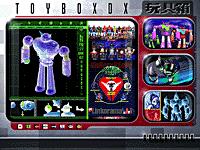 Meanwhile, watching the
Rumble
team code is like eyeballing the cold claw of obsolescence as it clutches my slipper.
To compensate, I've been foraying into real-world, cheap wares for the ToyboxDX Nightmarket.
"Yeesh — 'mousepad' you say?" Yes "mousepad." I know you don't need another, but for goodness sake, it's awfully colorful.

---
"Yeesh — 'mousepad' you say?" Yes "mousepad." I know you don't need another, but for goodness sake, it's awfully colorful.
---
Click on the thumbnail to see the new
ToyboxDX Mousepad
. It's got
Grieg
and screenshots of the site, and like everything we're selling, is sold at cost to us.
---
Finally,
Forces are at work in the universe. The same algorithm of self-expression and defiance of structure that spawns a global information network demands a new awareness and attitude towards the consideration of the giant robot.
What the hell am I talking about?
I'm talking about making your own robots, Popyboy. Your own robots, and not mine or anybody else's.
Expression of words and pictures is the first wave of this new interconnectivity we share. The second wave is physical: assembly will be required.
One year ago, I "doodled" that image while on the phone with Matt. I made some quick changes, checked out some sites, sent an email, and Bam. 24 hours later I had a prototype. The experience was closer to teleportation than communication. The first hurdle of designing and manufacturing real-world robots was solved.
The robot's name is Nekosaur. Consider him a towering homage to Purcell, Sanrio, and my cat James. My intention is to complete a short run of diecast toys, document and share the process, and facilitate a forum for a worldwide pantheon of new creations.
It's time to shatter the Bandai hegemony.
The real problem, for chogoheads like myself, has always been the metal. How to diecast without a minimum run that costs more than your house? The lateral solution: don't "diecast."
If the goal is to make your own robot, then utilizing mass-production techniques is suicide. The initial experiments have been promising but need work. More on this later.

---
We've all witnessed endless speculation and dialogue about the possibilities of self-manufacturing. I'm convinced that a convergence of timing, technology and human energy is about to hit, and that together we're on the cusp of a truly special moment in history. We will see just how full of this cusp I am.
In the meanwhile, Happy Turkey Day. May the rest of your year be filled with fine things to be grateful for.
And stay tuned. Long live ToyboxDX!
Comments Off

on State of the 'Box