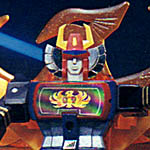 Back in town, and I head for familiar ground: Day-Old Antiques is like an old house, caught in memory, where the analog experience lives and breaths. Each crusty shelf overflows with the ephemera of the bizarre: old batteries, condom tins, and the unmistakable musk that IS vintage japanese toys.
Tonight, I don't have to settle for the sterility of a clean-cornered blister packer. It's straight to the back-case to reclaim a piece of my youth.


For 15 years, I've carted around the decapitated remnants of one of my pre-pubescent favorites: Unrivaled Robot Tryder G7!
I've tracked this particular item for four years now, keeping it for rainy-day desperation — some point in time when I'd need a desperate injection of reaffirmation. After months of disillusionment towards what's left for me in diecast, I cash in this chip.
This isn't Ceppa Ratti action. It's the jeweled Bird Attack version by Clover. Alt and I have always considered this the Trans Am/Gran Turissimo of robots, its main competitive advantage being 9″ clip-on articulating fiery phoenix, cast in sparkling orange disco-acrylic. Each feather terminates in a dagger-like edge. He's armed with missiles and blades up the butt. The sticker on his chest animates like a Cracker-Jack prize. I'm gripped by the insanity of it.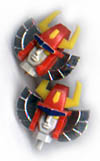 (Incidentally, this model G-7 circulated heavily throughout Taiwan in the 70's. On my last trip to Taipei, I successfully found any number of them. All of them were missing heads.)

Mike Z takes care of me. I end up in such an up-mood that I need a dessert comedown. Lo and behold, I'm lowballed by the underwhelming oddity of the Smallest Diapolon Ever. This tiny red tike clocks in at a whopping 3.2 inches tall. The articulation sucks. The arms suck. I can't think of a better piece to illustrate the polar opposite of my obsession.
I pass the Amex. Mike passes the loot. We complain about damn computers and eBay. It's been a long time since I've run home from the store.


Matt Alt gets Sausy

---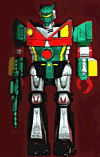 "Sausage, anyone? SAUSRAIGER! Sausraiger blows. His design begs to be mocked. Yet I find myself drawn to him like a moth to a flame, especially when he's rendered in supple, inviting vinyl. I'd call him a 'mini-machinder' like those whores on eBay would, but he's not. His 12-plus inches of metallic-painted goodness are enough to satisfy me, though. (Yep, he's even bigger than the DX transforming version.)

"I've got to give props to the one-and-only Rob D for snagging this bad-boy off the shelf at Mandarake and sending it out to me. SUCKA!"
— Matt

Comments Off

on Unrivaled