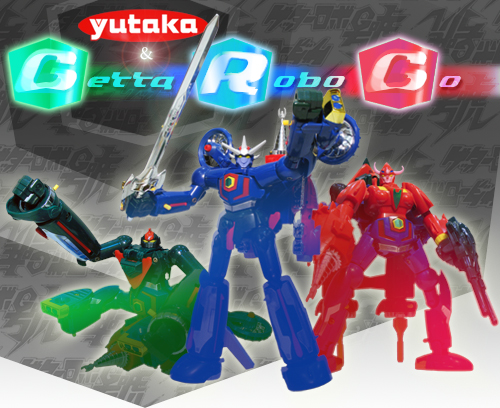 Yutaka and Getta Robo Go
text:Robert Duban & Matt Alt, design: Kelvin Pang, research: Robert Duban
September 2007
Updated: 09.30.07
Image contributions: Mike Parisi
---
Yutaka, yet another company formed by toy giant Bandai, enjoyed a brief thirteen year lifespan. The company was started in January 1990 when Shinsei Manufacturing (of "UFO Commander 7" "fame" -- if you can call it that) changed its name to Yutaka. (1) Thirteen years later, and shortly after the company's bar mitzvah, Yutaka's end came on March 1st, 2003. Once again the company name was changed, this time to "Popy Co., Ltd." (2) Popy was a former Bandai company originally dissolved in 1983. The resurrected version of "Popy" formed from Yutaka is still in existence today.

During Yutaka's brief stint, the company produced a slew of cheaper low-end toys, such as little "super deformed" renditions of Ultraman and Kamen Rider characters, boxed vinyl figures, and plastic toy sets. Many of Yutaka's cheapie toys were co-branded with yet another Bandai company, "Hearty Robin." See the "
Robin
" data file here for more detail. While most of these offerings were rather unspectacular, Yutaka really made its mark with its toys from the series "Getta Robo Go." "Getta Robo Go" (airdates: 2/11/91 - 1/27/92) was an early-Nineties attempt to revive a classic series from the golden age of Super Robot television shows twenty years earlier. Although credit is often given to
Go Nagai
for creating the show, in actuality Getta Robo Go was the brainchild of the late
Ken Ishikawa
, who also designed and wrote the original "Getta Robo" and "Getta Robo G" series. Unfortunately, Getta Robo Go never achieved anywhere near the level of success of its wildly-popular predecessors. The dozen or so Getta Robo Go toys included a standard sized toy of each of the three modes of the title robot, two different combining versions, a handful of vinyl toys, and a curious "
Enbix
" line of rubbery toys molded in solid colors. The rather extensive line also included a "jumbo" sized toy, harkening back to Popy's series of classic "
Jumbo Machinder
" toys from the 1970's. The Jumbo Getta Robo Go is noteworthy as it is one of the most easily obtained vintage jumbo toys, and as a late entry in the Jumbo Machinder pantheon, it deserves particular attention. Although the appreciation of vintage toys was in full force by the early 2000's, the late 1980's and early 1990's were a rough time for nostalgic designs. The Getta Robo Go jumbo was fairly unpopular when it first came out, and the toy sat on both retail and aftermarket shelves for years after the initial release. (It's actually still a fairly common sight in used toy shops in Tokyo.) Even though Getta Robo Go's design shares very little in common with the previous incarnations of Getta Robo, the jumbo toy is a classic in its own right. A pair of giant fan-blades on the back fire missiles, both fists are spring-loaded, and the elbows are articulated using ball-joints. There's also a huge drill-bit that fits into the backpack and can be swapped with either of the hands. As with the previous Getta Robo characters, Getta Robo Go could combine into three distinct forms in the anime. Unfortunately, Yutaka only produced a jumbo toy of this one design. In a somewhat unusual turn, Getta Robo Go got a new lease on life with the reissue in 1999 of the large "
Super Gattai
" set in regular colors as well as in a special black version. There was also a clear version released as well, but apparently this was only produced in extremely limited numbers. Perhaps as only eight or so years had passed after the original release in 1991 (too soon for any "nostalgic" interest in these toys) and given the high price point, these reissued toys mostly languished on Japanese toy shelves. 1. See Bandai's own
corporate history
for more information.
2. See Bandai's
2003 Annual Report
.
DX Getta Robo Go 1

DX Getta Robo Sho 2

DX Getta Robo Gai 3
Jiko Gattai Getta Robo Go
Super Getta Robo Go Super Gattai

Super Getta Robo Go Super Gattai (1999 reissue)

Super Getta Robo Go Super Gattai Black Version (1999)

Super Getta Robo Go Super Gattai clear version (1999)
Getta Robo Go - vinyl

Getta Triple Set

Jumbo Getta
Enbix Series Getta Robo Go

Enbix Series Getta Robo Sho

Enbix Series Getta Robo Gai
Pla-Hero Getta Go
(co-branded with "Hearty Robin")

Getta Flasher Set

Getta Helmet