Grip Toy: Get a Grip!
text: Matt Alt, graphics: Robert Duban
June 2006
updated: 06.24.06
---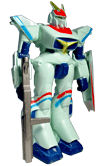 Not to be confused with the "
Grip
" series of toys sold by the
Eidai Corporation
, "
Grip Toy
" appears to be yet another minor brand name employed by that master of disguise,
Bandai
. Some "Grip Toy" packages feature the ubiquitous "
P
" logo found on
Victora
and
Robin
products. Others sport the "
Y
" logo used by Bandai subsidiary
Yutaka
. A handful of "Grip Toys" also feature the text "
Marukoshi Incorporated
," an Asakusa-based toy manufacturer that supplies toys to a wide variety of companies and is currently helmed by former
Bullmark
executive Saburo Ishizuki. The toys are a rather mixed grab-bag of characters, but there is a strange theme running through many of them: guns. More than a few are boxed play-sets containing a character toy and a BB-pellet firing "bazooka" toy. Although Grip Toy is hardly the only manufacturer of such playthings ("
Big Bear
" comes to mind), it's a peculiar genre of character toys, to be sure. The following list is a work in progress, merely a first attempt at cataloging a handful of Grip Toy products. Undoubtedly Grip Toy fanatics -- all one or two of you -- will uncover more in the future.
Batten Robomaru
1982
Cat Ninden Teyande - Yattaro Deka
1990
Dragonar 1 [box]
1987
Super Bazooka Dragonar
1987
Dragonball Z - Super Saya-jin Goku
1989
Dragonball Z - Super Saya-jin Vegeta
1989
Fiveman - Five Robo BB Bazooka
1990
Fiveman - Super Five Robo
1990
Fiveman Series No 05 - Five Yellow
1990
Fiveman - Fi-blaster
1990
Jiban Deadly Weapons Set
1989
Jiraya
1988
Jiraya - Jiraishin
1988
Liveman - Super Bazooka Live Robo
1988
Liveman - Red Falcon
1988
Liveman - Moto Machine Set
1988
Liveman - Moto Machine Set w. Blue Dolphin
1988
Maskman - Super Bazooka Great Five
1987
Maskman - Mascroder-Set
1987
Saint Seiya - #1 - Taurus Cross
1986
Saint Seiya - #3 - Libra Cross
1986
Turboranger - Turbo Balance Game
1989
Turboranger - Flying Turbo Brace
1989