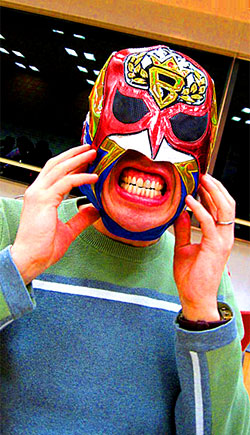 ---
Matt Alt
Matthew Alt, a native of Washington, D.C., has been working as a professional translator and freelance writer since the early 1990s. His translation experience includes four years as an in-house technical Japanese translator for the United States Patent and Trademark Office. His work as a writer and specialist in Japanese pop-cultural phenomena has appeared in the magazines ToyFare, Anime Invasion, Super 7, InQuest Gamer, and the Playboy website, among many others. He is also the co-author of Super #1 Robot, published in 2005 by Chronicle Books.
Born September 16, 1973, he came down with a horrible toy-collecting fever September 16, 1977 after unexpected exposure to a pathogen (a Getta Dragon Shogun Warrior, to be exact.) Plagued by crippling side-effects to this very day, inlcuding an obsession for large PVC robots in C-10 boxes, an almost uncontrollable urge to speak Japanese, and an addiction to the feel of cool diecast against warm skin. Currently embroiled in a legal battle to get his insurance company to pay for the crippling costs incurred by monthly "maintenance doses" of potent Japanese cho-go-kin. Won't you please help? Send donations c/o ToyboxDX.
And yes...he has a BLOG...