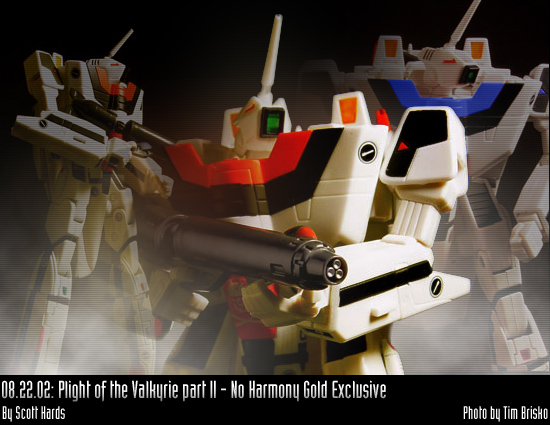 No Harmony Gold Exclusive: US Copyright Office recognizes Big West/Studio Nue Macross Copyright

ack in April, the "Plight of the Valkyrie" article posted here outlined the legal situation for the Macross franchise in the USA following the February 2002 Tokyo District Court decision to acknowledge Big West and Studio Nue as the holders of the copyright for the original Macross television series characters and designs. As it turns out, the two firms were hardly resting on the laurels of their court victory. Within one month of the posting of that article, the firms had applied to the US Copyright Office to get their claim to the property registered in the US, and they have been successful. A search of the US Copyright Office's database for Registration Number VAu-534-107 brings up the following entry:
Title: Macross Description: Drawings Claimant: acKabushiki Kaisha Studio Nue & Kabushiki Kaisha Big West Created: 1982 Registered: 17May02 Application: artwork: Kabushiki Kaisha Studio Nue, employer for hire. Special Codes: 5/S
The description of "drawings" is referring to the rights for the original artwork on which the series is based. The Special Codes of "5/S" are defined in the data base as follows:
"5 = visual arts (excluding maps), paintings, drawings, sculpture, technical drawings, prints, post cards, cartoons"

"S = Visual arts works...sculpture, figurines, statues, statuettes...Toys, games, banks, and dolls..."
Numerous other examples of "visual arts works" are also given in the list, but it's clear that the scope of the coverage is essentially anything to which a copyrighted illustration or "artwork" can be physically applied.

As I pointed out in my first article here, I'm not a lawyer. But given this entry in the US Copyright Office's records, common sense seems to say that it would be difficult for any US court to find that Harmony Gold held exclusive rights to the Macross property vis-a-vis toys, especially those which bear Big West's name! And such a court order would be required for Harmony Gold to follow through with their threats to retailers to confiscate Macross merchandise imported without their approval.

In May, a new company called Sunwards announced that Big West had granted them overseas distribution rights for Macross items, specifically a repackaged version of Yamato's transforming Strike Valkyrie. Apparently the company is operated by an individual extremely close to Yamato. However, at present Sunwards is firing blanks. Since their announcement, nothing has occurred. As of August 21, their web site is completely brain dead. It offers no information of any kind, just a simple title page and a list of links that all lead to an "under construction" screen. Hardly encouraging.

At this point, since both parties now have legal claims to Macross in the US (the same US Copyright database has numerous listings for Harmony Gold's claim to the property), lawyers for both sides could probably have a field day with suits and countersuits. This could, literally, take years to sort out. In the meantime, there is nothing to stop personal imports of Macross products direct from Japan from companies like HobbyLink Japan. These are specifically allowed by US Copyright laws. At this rate things are going, the combatants in this struggle are going to find that the very market they are fighting over has withered by the time they're finally ready to exploit it properly.

(Special thanks to Roy Estes for pointing out the US Copyright Office data which led to this article)



RUMBLE INDEX | CURRENT RUMBLE