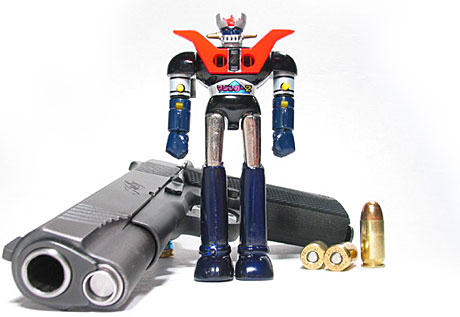 © 2004 MAZINGATEST BY BIG SCIENCE
"Yo — I'm back! Yeah, it's been awhile — I know I know. Well, my little thing is over. No, we won, in the end. No, no; I'm almost back to, um normal…Really, I'm doing much better."
---
Deprogram: first stop, B&N to stock up on O'Reilly books. Next stop: headaches as I apply a lug wrench to my brain pan to dislodge a generation of obsessive <TABLE> coding. Stylesheets and Includes: gee, that's schwell. I go, but I go unwillingly. Lo and behold…the <DIV> tag!
By the way, the logo font is splattered all over the CSS.
It's called

, it's free, and you can Google it, or just download it here. (Please.)
In between bullshit, I bust my cherry. Yes, I make it to Japan — not just once, but twice. Not my first trip there, but certainly my first as an "adult", and certainly the first as a total freak.
Highlights from the trip(s):
Interior design for the chogokin show was utterly inspiring, even if seeing the SOC Dancougar wasn't. The right way to decorate a fortress of solitude one day.
They had a two-piece mazinger suit. It was pimp.
Matt Alt is old and feeble. I destroy him at the sake bar, crush his spirit. Ultimately Hiroko exerts executive privilege to protect his honor, but the damage is done. My impression is he later does a full-color "Brisko" wrapped around the toilet at home.
---
Here's some nonsense from B.S.D.: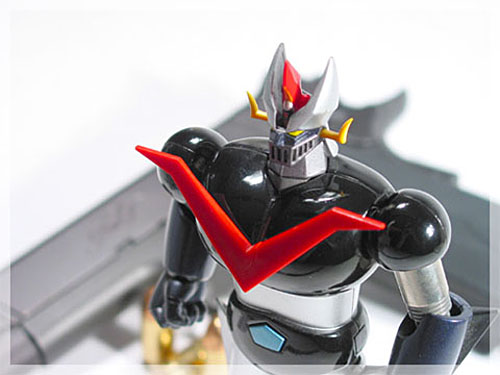 © 2004 MAZINGATEST BY BIG SCIENCE
"GA-01 FIST UPGRADE. WE WANT MORE POWER, FIST OF LEGEND REAL SPRING ACTION! Big Science, on the job, researching options for ordinance upgrade. Favored replacement projectile: the .45ACP round, well suited indeed to the
mighty GA-01. Some engineering compatibilities require resolution…"
— BIG SCIENCE
Hmm. Reasons to shoot Mazingers with guns. Well, enough of that. I'll close with a shot of my current Favorite Mazinger: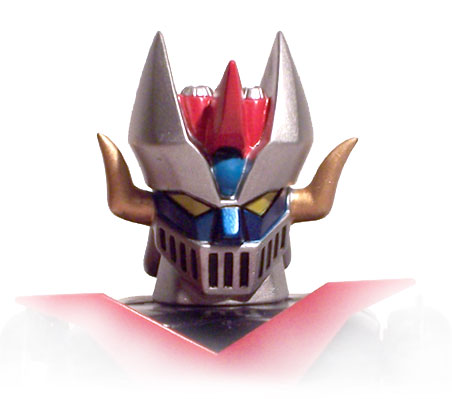 Well tough guy? Did you figure it out?