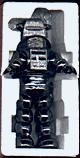 A quick shot to NYC to see the Toy Widow! We take the train from the Upper West Side, heading over to the corner of 13th and Broadway. That's right: it's Forbidden Planet!
Fond memories from the 80's are immediately obliterated: the corner windows, once brimming with Popy, Shoguns and Godaikins now feature everything tawdry in the world: Phantom Menace, Digimon etc.
Inside: I can't find the staircase to the basement where the old Bandai lucite displays reigned. In fact, I'm so stupid and old that I don't even realize it's a new building until the manager tells me. There's a little tear welling up in the corner of my eye as I remember the stacks of Valkyries and Dougram toys that once rusted in the corners.
In the back, some of that "vintage 90's" nonsense: Micromen and Henshin Cyborgs, also some Miracle Actions, and a pile of Gundam model kits. Has it really come to this? I snag a Microman. I think it's name is "27." I try to get juiced because it's magnemo, but can't. How much fun can it be to "hunt" for something that's so commodidized? (Incidentally, like many I really have fallen for the cool toyness of the new Micromen. I have to say, tho', there's something…unexciting…about numbered blister-pack.)
On the way back to the front my toy-nose beeps, and I look over my shoulder. A 24″ LJN Voltron, lurking behind a comics cutout on the mezzanine. Of course it's not for sale, but I don't care: as long as my radar registered it.
Finally, at the checkout: diecast Matsudaya Robbies stacked like gum.
Pretty cool! Heavy, and about articulated as a lug-wrench, but what can you do? These are 90's pickings, and I'm grateful for the metal.
---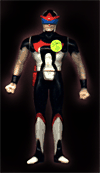 After a pallid and unenthused checkout, it's off to
Love Saves the Day
. (About 11 blocks to 2nd St, then across to 7th Ave.) Much more like an old school vibe!
Buried among the Linda Carter dolls and Smurfs: some assorted Matchbox Voltron hoohah, and a Godaikin Goggle V. In the back, a sorry collection of battered 3″ "Collector Shoguns" and an ugly
Ulysses diecast. Also: a black SOC Mazinger [whoopee.] In the corner, something catches my eye. It's a crummy looking vinyl of…who the hell is it? I guess I don't care.* I talk the old times with the guy working, who throws me some leads. A quick round of bargaining, and we're down to $15. Why not? It appeals to my complete lack of toy scholarship.
So I depart a happy kid, for the moment, having found a little gem. But it's a matter of time before the rivers dry completely: the Internet has successfully killed the boutique hunt.
Mark my words: before it's over, Ebay will have us all…
(* Duban says "ITADAKIMAN!")


Matt Alt with some Inspiring News

---


"Thanks to the ever-resourceful TBDX Secret Agent Yappy, we've gotten an update on the upcoming 'ladies of Mazinger' series: the diecast Aphrodite A and Minerva X should be available in six weeks at an estimated retail price of $50 a pop. They're lookin' good, as you can see from the Aphrodite
prototype, and seem to be leaning towards the 'realistic' (Soul of Chogokin) school of robot-toy. (And no, those breasts, while removable, don't shoot off.)

"So what's Bandai's going to do when they figure out that our Hong Kong friends are planning to flood the market with unlicensed diecast? The potential legal battle should prove as amusing as the toys themselves. Stay
tuned!"
— Matt