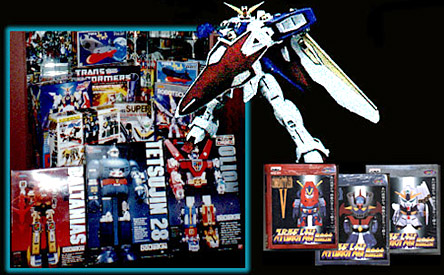 Tony & Milly -- Cuteiful Things
01.21.99


Hello to the world of Super Robot collectors and fans! We are relatively new in the huge circle of ToyboxDX and all other robot sites for that matter but find it to be not only a wonderful hobby, but one that promotes a opportunity for people like my fiance and myself to collect items that we grew up with many years ago (actually not that many considering we're still in college). Together we began a small operation called "cuteiful things", we started with ebay and built a nice following of customers/friends who have been so kind to us as we stepped in unfamilar waters. Slowly we began to visit other collectors' sites such as ToyboxDX and found ourselves in a huge and diverse world of toy collecting.


It's been a wonderful experience over the last few months, from meeting great friendly people, to being able to help finance our college education from helping other people acquire hard to find and new Japanese, American, and any other cuteiful toy. Of course robots don't fall into any type of cute category except for maybe Robocon, but still they represent our cultures that we originate from. Most of these items have been from our childhood so they hold much more of a significance to us than any other new toys that we could buy, which is why we rarely add new toys to our collection. We've stocked anything from Macross, Shogun, Votoms, Voltron, Gundam, Transformers all the way to Totoro, Mononoke, Pokemon, Sanrio, and just about anything else.
To all those who have dealt with us in the past, many "Alohas from Hawaii", and to those who have not, we truly hope that we have the opportunity sometime in the future to meet you whether it be on eBay, CJT, or from ToyboxDX! Aloha and Mahalo from Hawaii!
-- Tony & Milly


Back to World Collector Index