There has been a lot of talk of grails as of late.
There are grails… Then there are Grails.
First seen in the Metal Box brog, the giant Red baron is head and shoulders above his other vinyl brothers and in actuality sits nicely in scale with the Villian Machinders at 18 inches tall.
http://www.metal-box.jp/blog/wp-content/uploads/2009/05/blog090520a.jpg
But where did it come from and is this in fact a store display as some have suggested? Since there are so few to begin with, and as of yet no packaging has been located, that debate will certainly continue for some time.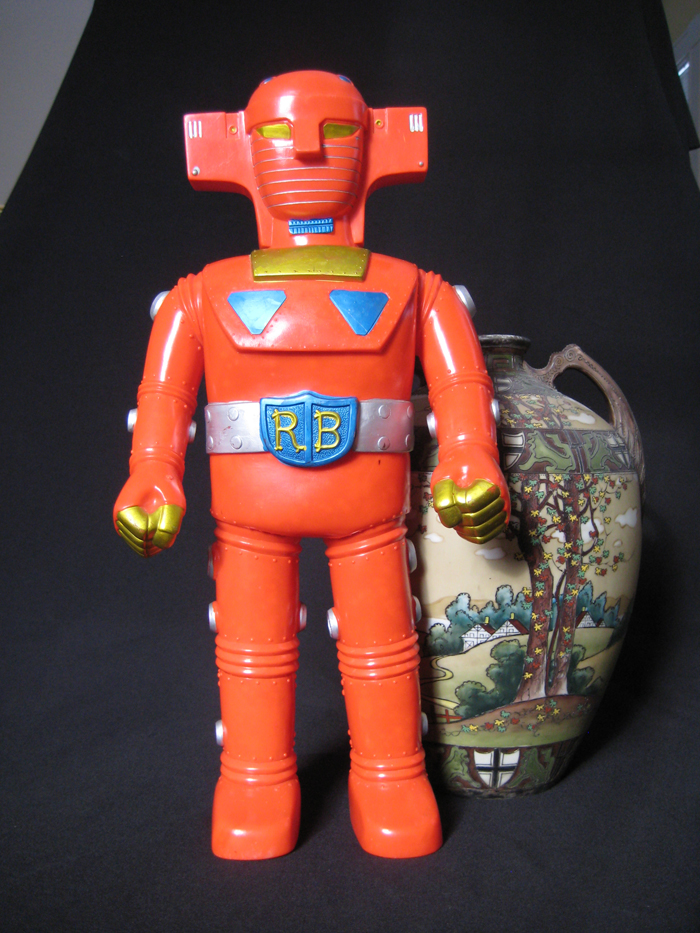 But perhaps Warren's email exchange (below) with the original owner might shed some light onto the origins of this amazing toy.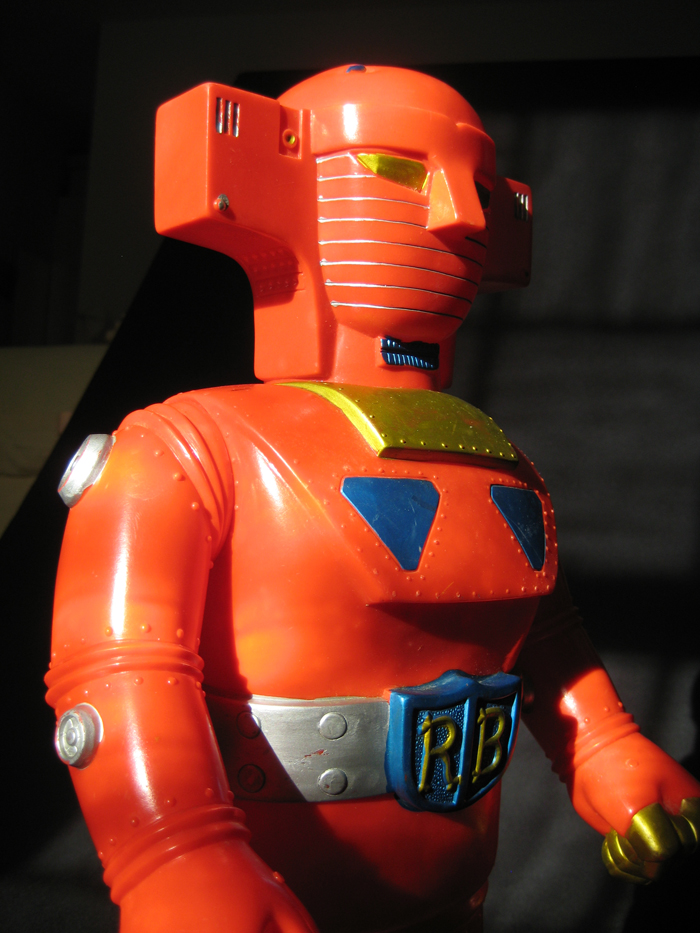 "Dear Bev,
I'm very excited about this piece ~ thank you so much for listing 'him'.
I would appreciate it if you could give me any information about how you came by it –
For instance, are you a toy dealer? Was it part of a lot? Was it a gift?
Do you collect or have other Japanese robots?
Or do you have particular ones which you plan to auction in the future?
Did you travel to Japan to get him?
Who owned him before you did… i.e. what is his 'provenance?'
Any other information you have would be great! And finally, thank you for putting this up for auction!
All the best,
Warren.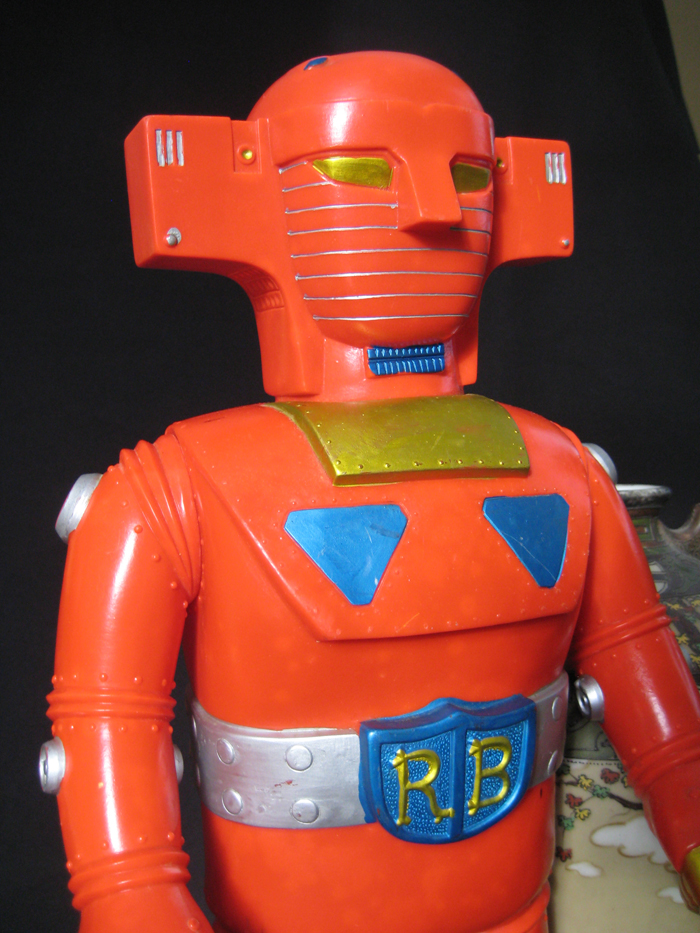 "Dear Warren:
I'm happy to tell you about this toy. It's not a particularly unusual story. We lived on Okinawa from 1973 to 74′. My husband was with the US Dependent Schools there. Our kids were age 8, 10 and 12.
Our 8 year old liked to watch Japanese cartoons on TV and liked to spend his allowance in the shops in our village of Ishikawa. Someone asked me about how he was packaged when we got him but we believe there was none because the stores were so small, they probably took it out of the box. Actually, they weren't stores that you could go into at all – just the front of a building where the family lived in the back. At night they would have a metal door that would cover the shelves.
From Okinawa, we went to Germany for 4 years and the US taxpayers shipped all of our belongings, including 5 large boxes of toys, around the world for us. Finally we settled in Litchfield, Illinois near where my husband and I grew up and we have been storing the toys, narrowed down to 3 boxes, for the next 30 years.
In November, I decided that it was time to clean the storeroom. So, our son was forced to decide which ones he really wanted to keep and the rest had to go. He's still sentimental about the toys because it was a wonderful adventure in the life of our family. Mostly, I think he just kept some of the smaller German toys. Since the 2 robots were large, they were the first to go. I listed the red robot at $4.99 because it never occurred to me that anyone would want it. I hope he is a good addition to your collection.
Sincerely,
Bev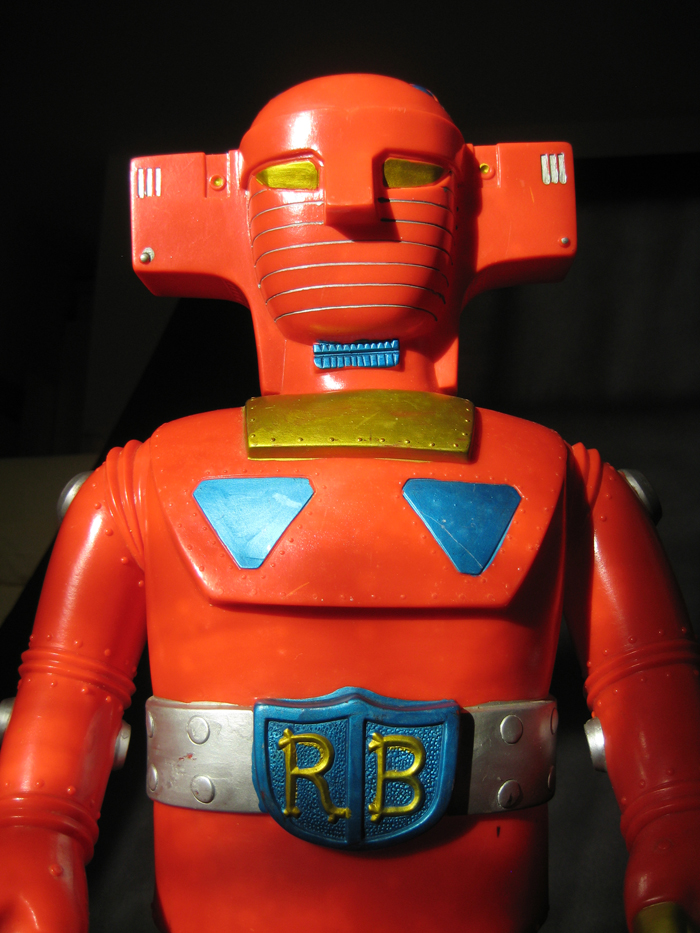 "Dear Bev,
Thank you so much. It explains the circumstances of the toy, and why there is no box, and how it came into your possession. You're right, it's not particularly unusual that you were stationed in Japan and your son enjoyed toys bought from his allowance. But the environment in which the toy was sold is interesting to me.
My wife has been a member of the Boston Symphony for 35 years, and because the orchestra had a conductor who was Japanese he took the orchestra to Japan on tour. In 1986 I accompanied her for the first time and spent time in a number of cities visited by the tour. During rehearsals I would roam the town centers where the toy shops caught my eye, and particularly the shops which had vintage robots from the golden era of Japanese toys. I collected many of them, and shipped them back home where I have an expanding collection. I am an architect in Boston and have fallen in love with the forms, colors, and history of the Japanese creative mind, and the toys!
All the best,
Warren".
"Dear Warren:
I mailed the robot this morning. I sent it parcel post (which should be 6 – 10 days delivery time) with insurance. By the way, since you said that you were interested in it's "environment", the name of those little stores were "mama-san" stores. Because Ishikawa was a small town, that's all we had.
Bev"

There is something to be said about the rarity of a toy, and perhaps the story behind it's manufacture and company history. But to me there is something even more charming about the actual "history" and story each of these objects have through their journey through the years. Much like children's names written on the bottom of the feet of many vinyls, there is a humanity that goes with this hobby that can be sometime forgotten if you don't look carefully. Much like all of us, each of these toys has their own unique past.
The auction certainly was an exciting one, and the toy is really a work of art, but I find it even more beautiful knowing its humble beginnings, and who and where "he" came from.
Comments Off

on Robot from Okinawa