Sometimes I do things backwards and make weird decisions.
For most people, a 1st version Shogun Warrior Dragun is one of the first jumbos they buy. I mean, it's the same as the Popy version at a fraction of the price and not hard to find. So why get the ugly one with the stupid lightning bolts on the legs?
Well, in my case, I happened upon a good deal for an original Popy Dragun and being me, I decided on the spot that when I eventually bought a Shogun Dragun, I wanted the lightning legs one. Sure, it's stupid and ugly, but I thought it better to get the one the was the most unlike the Popy version, for the sake of variety.
Well, it took a surprisingly long time, but just today I finally got one in the mail. And now I have all 4 of the major known Dragun jumbos.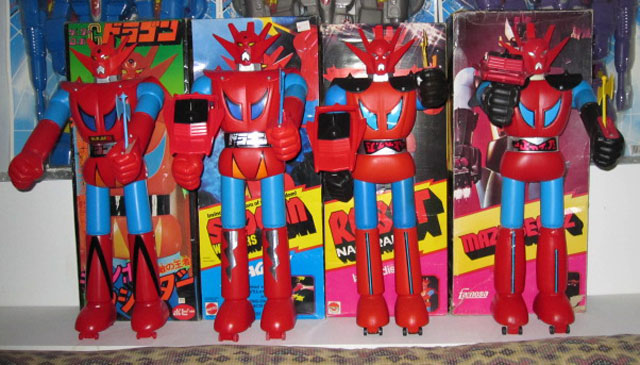 You are looking at them in chronological order. From left to right, Popy, Mattel, Nacoral and Famosa.
OK, so now let's play "spot the differences". Using my own specimens and what has long been on the Wildtoys Shogun Warriors page, here's a rundown of the makeup of each toy, using the Popy toy as a "base".
Popy
Original design
Includes 3 axes (light blue, yellow, white)
Mattel (1st version)
Just like Popy (except…)
Added Star shooter
Star Shooter has strap
Mattel (2nd version)
Just like Mattel 1st version (except…)
Star Shooter has clip
Axes have spikes removed
Mattel (3rd version)
Just like Mattel 2nd version (except…)
Saw Blades removed
Mattel (4th version)
Just like Mattel 3rd version (except…)
Lightning bolt stickers on legs
Great Mazinger upper arms*
Modified Great Mazinger feet*
Blue axe darker in color, yellow lighter*
*These are things I just noticed today and haven't seen documented elsewhere. So this change might have happened earlier. Notice that my Mattel is actually taller than the Popy!
Nacoral
Just like Mattel 4th version
Black arms and cape
Includes only 1 axe (yellow) and 6 stars (3 green, 3 yellow)
Stripe stickers on legs
New waist sticker
Pelvis stickers removed
Hard plastic head
Black wheels instead of red
Famosa
Just like Nacoral
Waist sticker inverted
Great Mazinger lower legs
And naturally, they all have different boxes. So I'm unclear on that. Since I only own one Shogun Dragun, I am relying on John's site for that information. And while his site says the Shoguns came with either 6 or 10 stars, the one I got today actually had 12 (4 each of blue, red and yellow). So I'm not sure what the deal is there.
And finally, on every single Dragun I have, the wheels attach differently. I don't even know where to begin on that. And I'm sure I'm still forgetting things. But I'm sick of typing. Being an obsessive nerd is draining. Don't try this at home!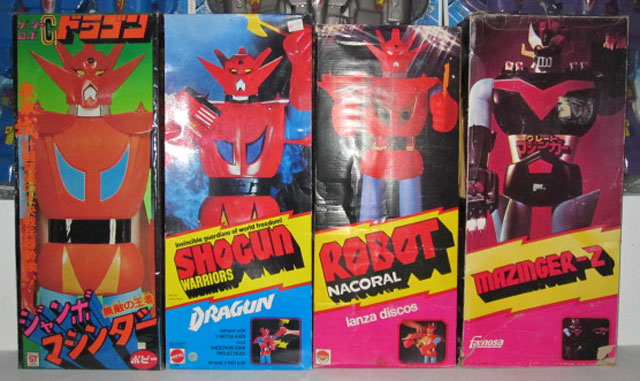 Comments Off

on Here There Be Draguns